3rd Update :
Alen Stajcic has finally made a
media appearance
. Video too.
A longer
write-up
of the torrid affair.
If FFA had some balls and stated what it was about in the beginning. Rather than hiding behind catch-all nasty takedowns like 'toxic culture' - Stajcic may have been spared alot of innuendo. I hope he sues and wins.
David Gallop, a
'champion' of his time at the NRL
is an insipid wastrel. It was to be expected.
---------------
2nd Update :
It is
murkier
than I thought. We can only rely on hearsay, as FFA (Football Federation Australia) is being very secretive with the reasons.
An insider with deep understanding of the workings of women's soccer claims the sacking of Matildas coach Alen Stajcic was "not about him as a coach but about a group of power-hungry women with a long held hatred of him."
some Matildas are unhappy...as they are still in the dark as to why Stajcic was sacked.
The insider said there were people in high places who had an axe to grind with Stajcic and wanted him out.
"Interestingly, however, there was never any talk of a poor culture or issues inside the camp."
It is no different to a high school clique. False rumours and innuendo are the primary weapons.
"When Alen was named temporary coach of the Matildas in 2014, I know one administrator was very disappointed."
"She said she can't stand him. She did not want him, she did not like him, she thought nothing of him."
"She said they had 'fought so hard (to keep him out)' but couldn't do anything about it."
Disgruntled, second rate players were always a time bomb.
"Then you add the other levels, like former players, a number of whom had been working behind the scenes against him. Players who have been dropped, players whose contracts have not been renewed."
According to the source, who has had dealings with Stajcic in the past, they have never seen anything that would be misconstrued as misbehaviour on his part.
Surely more to come. It certainly won't be through official channels.
--------------------------
Update
:
Success and hard work is toxic.
Despite his remarkable success with the Matildas that saw them finish runner-up in the Asian Cup in 2014 and 2018 and quarter-finalists at the World Cup (2015) and Olympics (2016), those forces finally got their way last Saturday when FFA announced he had been axed amid claims from the head body that he had overseen a "toxic culture" in the Matildas.
Being told to run faster or get in peak shape is toxic.
Instead, there have been allegations, not directly linked to Stajcic, of bullying, homophobic comments, fat-shaming and mental disintegration in the Matildas camp. The Weekend Australian is not suggesting Stajcic has engaged in any wrongdoing.
Homophobia is anything that denies true love flourishing in abandon. At all times.
There is talk of the Matildas camp being divided. There are allegations some players have been in relationships with one another and allegations some were upset and angry when told they could not room together.
It was always fringe elements, and their lackeys using behind the backs gossip to get their way.
At least three Matildas staff members, disgusted with the treatment of Stajcic, have resigned of their own accord.
As many as 17 Matildas have come out in public support of Stajcic, notably Australia's best player Sam Kerr and captain Clare Polkinghorne.
(Polkinghorne) said on Thursday she had not experienced bullying, fat-shaming or the toxic environment cited as part of the "unaceptable culture" that allegedly manifested itself under Stajcic and required his removal.
They see it happening in Hollywood. In corporate zombiesphere. Why cant they use it too?
-----------
Soccer turmoil of the #MeToo variety.
'Football Federation Australia took the drastic action of dumping Stajcic, who had been in charge of the Matildas since 2014, on Saturday on the basis of an investigation following revelations in two surveys of players and staff - one conducted by Professional Footballers Australia and the other by Our Watch, an organisation that tackles abuse and violence against women.'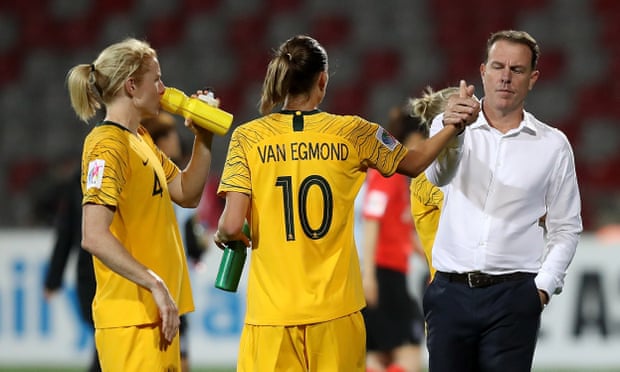 Of course the lobby groups can't keep away. Snouts must be fed.
'Questions have since been raised about the validity of both surveys, especially the one conducted by Our Watch, following suggestions it was not password protected and could have been accessed by any number of people. However, Our Watch assured The Australian last night that their research was conducted by the strictest standards.'
Our Watch's murky statement :
"All Our Watch research abides by the NHMRC National Statement on Ethical Conduct, under the guidance of Human Research and Ethics committees. Our Watch surveys are housed on a highly reputable platform utilised by hospitals, government and research and all data is password-protected and accessible only to authorised staff."
Let's look at this closer. Taking everything as spoken.
The data is password protected. The survey is not. Anyone with an axe to grind could, and evidently did jump on to log their grievances. The very familiar stacks-on the man with a declining status.
'It has been revealed that the Our Watch survey received 142 replies, but only three were from Matildas and the suggestion is that most responses came from parents of some of the players, and staff and partners.
What a surprise. Only 3 responses from the players. The ones that matter.
The FTBL.com.au website said some of the responses from the three replies included "trigger words" such as "toxic", "misogynistic" and "bullying" and "were later cited by FFA'
The big words that can crash the gleaming castle.
Toxic, misogynistic bullying.
No matter this is professional sport. Words must be kind, gender non-specific and non-objective.
How about a typical line heard in any non-professional, Australian sporting environment?
'Harden the fuck up, buttercup'
This line is clearly problematic. First we have 'harden', a possible phallic reference. If not a muscular reference. Such words cannot be spoken in the presence of professional sportswomen.
'Fuck', again verboten. Implying many things, at its most basic - penetrative sex. Tsk, tsk.
'Buttercup' - effeminate. These words are indeed criminal.
Ray Gatt:
'But this situation has gotten out of hand. There is a terrible stench - anyone smell a rat? - about this whole business and the demands for answers and transparency, especially from the rank and file, are growing by the minute.'
Place your bets if the three complainants are second string players, using words in the vain hope of magically becoming part of the First XI.
'All we have been told is that it revolves around a toxic culture within the group. There's absolutely no hint of sexual misbehaviour or violence.'
We must change society, because...women.
Kiwis
have it no better.